Store configurations are configuration for that outlet that apply to all the terminals.
Login to BackOffice and click on Admin–>Configure Store
General tab
Enter a store name, address, and location. You should also use your admin email where all reports will be sent. Depending on your country's locate you should use your date format.
Charges Tab
You can configure the service charge that will be automatically applied to all the tickets. In the same way, you can set default tips shown to the ticket. In case a store pays certain % more in overtime hours, it can add that rule here.
Tax group. This % of taxes to all the products in the store. If items has different taxes, you can ignore it. If any item has a different tax group, it will ignore store wise tax.
Items included sales tax is useful for countries like the UK where the price includes tax.
Please note that once the store starts its operation and take payment, it should not change the rule. That may produce wrong reports.
It also has special rules.
Florida, USA Tax rule
Toronto, USA Penny rounding
Branding Tab
In ORO POS store can brand the login screen and their printed receipts.
Logo: This logo can be used in your receipt.
Login screen background: This changes the background of your first screen.

Tips Tab
This determines who will receive tips.
In most of the case, Dine-In server should receive tips. However, if a driver delivers a pizza he should own any tips paid to him.
Miscellaneous Tab
Show ticket on the right side of the login screen
this will change the orientation of the screen as follows

Hide Misc button: Some stores may omit this "MISC" button to minimize the chances of stealing.
Hide server summary button: This is another security measure.
Show Tax exempt in the settlement screen: If enabled when the store receives payment it may exempt tax on the ticket.
Show Category breakdown in server summary report: Shows breakdown of sale by category.
Hide print button from order info screen: Some stores may prohibit server to print from order info screen to prevent stealing.
Additional print requires managers approval: If enabled, printing duplicate copy of the receipt will ask the manager's password.
Do not allow closing stores with open tickets: Some stores that allow order to be fulfilled in the next day may allow tickets open for the next day. Otherwise, this option should be turned on.
Minimum decimals to show: This tells how many decimals are shown in Receipt. This is a print-only feature. We internally save the data 5 decimals.
This is needed for countries like Bahrain and Kuwait where receipts need to show 3 decimals.
Other Store wise settings
The following settings are not specified in the Store configuration menu but, if you update them in one terminal, they are applied to all the terminals.
Users & User Typers: For more New employee permissions
Departments: They are used in large chain stores. Small stores can use terminal types as specified in terminal configuration guide document.
Tax: Tax Settings
Currency: Configuration of currency. If you require multicurrency payment check terminal configuration guide.
Language: Translate UI in OROPOS
In the same way
Shifts, Attributes, Multipliers, Void reason, Cooking Instructions, Courses, Coupons & Discounts are available to all the terminals.
Updates in v1.5
All screenshots and features described are for ORO POS 1.4. The following section describes some changes in ORO POS 1.5.
Added " Opening Hours", "Cash Config", "Session","Quick Tender Input" buttons according to their needs.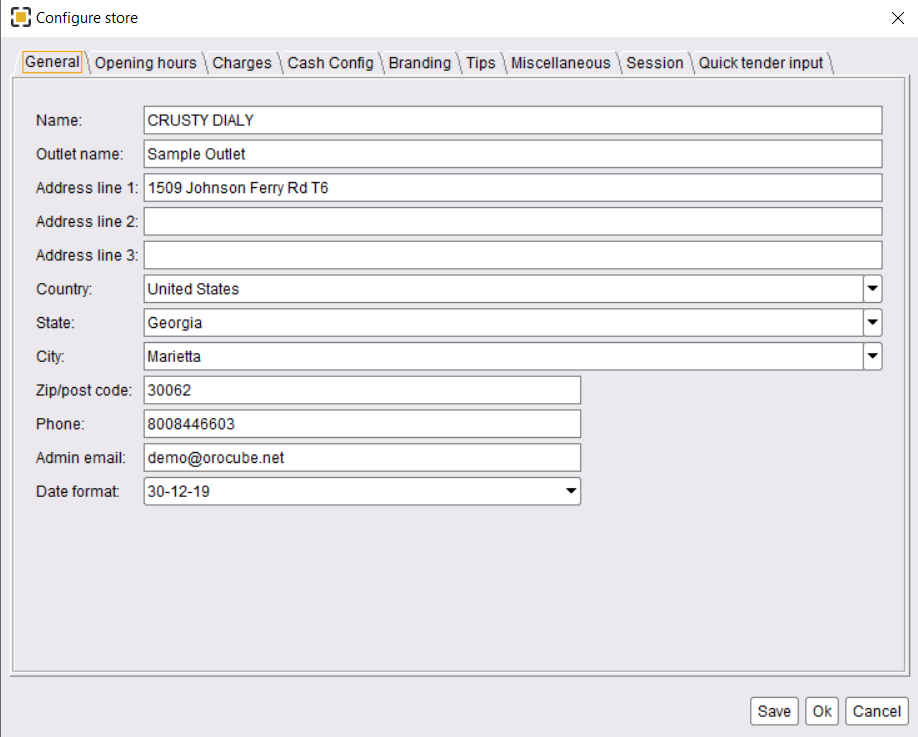 "Quick Tender input" Buttons